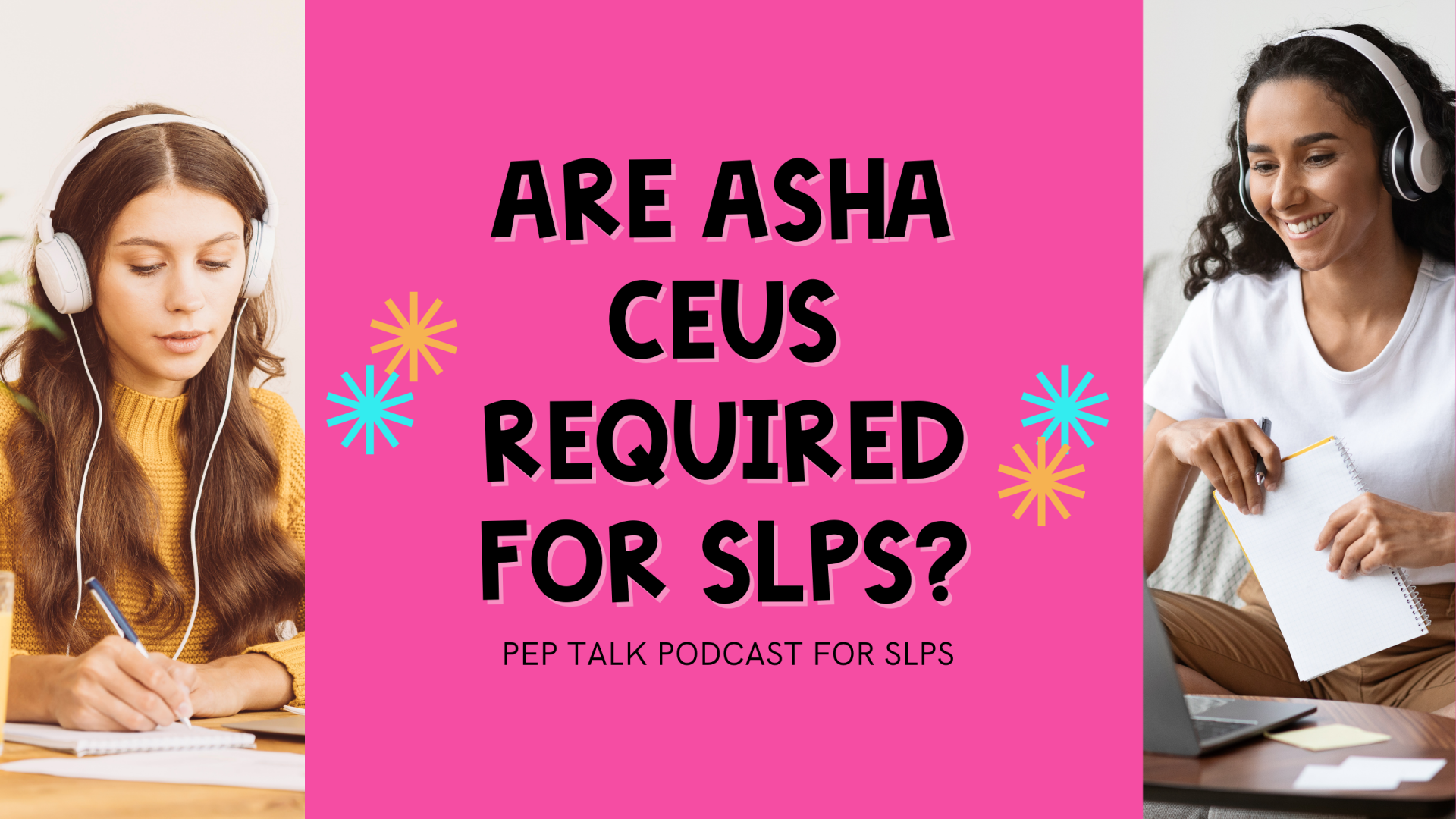 As a speech-language pathologist (SLP), you may have heard the term "ASHA CEUs" thrown around in conversation. But what exactly are they, and are they required for SLPs? In this blog post, we'll explore the ins and outs of ASHA CEUs and their role in the field of speech-language pathology.
What are ASHA CEUs?
First off, let's define what ASHA CEUs are. "ASHA" stands for the
American Speech-Language-Hearing Association
, which is the professional national organization for SLPs and audiologists. CEUs, or Continuing Education Units, are a way for professionals to demonstrate that they are keeping up with the latest research and developments in their field. ASHA requires that its certificate holders earn 30 professional development hours every 3 years, which can be ASHA CEUs or professional development activities (stated on ASHA's website), in order to maintain their certification. ASHA offers a registry that you can choose to pay for when you renew with ASHA. The ASHA CEU registry is only for ASHA CEUs. If you collect professional development hours, just save your certificates in the case of being audited.
Is Professional Development Required for SLPs?
Are ASHA CEUs required for SLPs?
The short answer is no.
"ASHA CEUs" aren't technically required, but professional development hours, known as PDHs are required to maintain your ASHA CCCs.
The requirement is 30 professional development hours every 3 years. As of January 2023, out of 30 required PDHs for certification maintenance, at least 2 hours must be in cultural competency, cultural humility, culturally responsive practice, or diversity, equity, and inclusion (DEI). ASHA CEUs are only
one way
to collect those hours to maintain your ASHA CCCs.
Professional development hours (as described by ASHA) count towards your required hours too. Looking to maintain your state SLP license too? Be sure to be up to date with your specific state requirements for CEUs. Most states accept other state's association CEUs.
What Does it Mean to be ASHA Certified?
Let's back up a bit. What does it mean to be "ASHA certified"?
ASHA Certification Maintenance Standards
require that all certificate holders (CCC-SLP) must accumulate 30 PDHs
(professional development hours)
during each 3-year certification maintenance interval in order to maintain their ASHA Certificates of Clinical Competence (CCC). ASHA certification is not required in order to practice as an SLP, but many employers prefer or require it, and it can be a mark of expertise and professionalism.
Why is Maintaining ASHA Certification Important?
Now that we know what is required for maintaining ASHA certification, let's talk about why that's important. Continuing education is crucial in any field, but especially in a field like speech-language pathology, where research and best practices are constantly evolving. By earning professional development hours/CEUs, SLPs demonstrate that they are committed to staying up-to-date with the latest knowledge and techniques. This not only benefits the SLP personally, but also their clients, who can trust that they are receiving the most effective and evidence-based treatments.


Ways to Earn PDHs/CEUs as an SLP
Don't worry-earning PDHs or CEUs doesn't have to be a chore! There are a wide variety of ways to earn them, from attending conferences and workshops to reading journal articles, participating in online courses and even listening to podcasts where ever you are and whenever you have the time.

How would it feel to be able to listen to your PHD/CEU trainings while driving to and from work or on your way to Saturday morning soccer when it fits into your life and schedule instead of sitting in front of a computer for longer after work? Enter the Pep Talk Podcast for SLPs!
What is the Peptalk Podcast?
The Peptalk Podcast for SLPs
is your new favorite way to do continued education! This podcast is full of FREE informative episodes all over continuing education topics. Michelle Andrews M.S., CCC-SLP interviews other SLPs in the field over many different topics such as sensory strategies, lateral lisps, how to effectively do push-in therapy, understanding Gestalt Language Development and more!
You can earn Professional Development Hours (PDHs) or TSHA CEUs by listening to these podcast episodes and taking a short quiz. You will earn a certificate that you may submit to ASHA for your CCC maintenance hours. ASHA accepts PDHs for all 30 hours to maintain your CCCs. These courses are also approved TSHA (Texas) CEUs. Check your state's standards to make sure PDHs or TSHA CEUs can be used for your state licensure requirements.
START LISTENING TO THE PEPTALK PODCAST FOR SLPs NOW!
SLPs: Earn a FREE CEU!
CEUs are Crucial for SLPs
In conclusion, CEUs and PDHs are a crucial part of being an SLP. They not only help maintain certification, but also demonstrate a commitment to ongoing professional development and the latest best practices in the field. So, embrace your inner lifelong learner and start earning those CE hours!
Created with