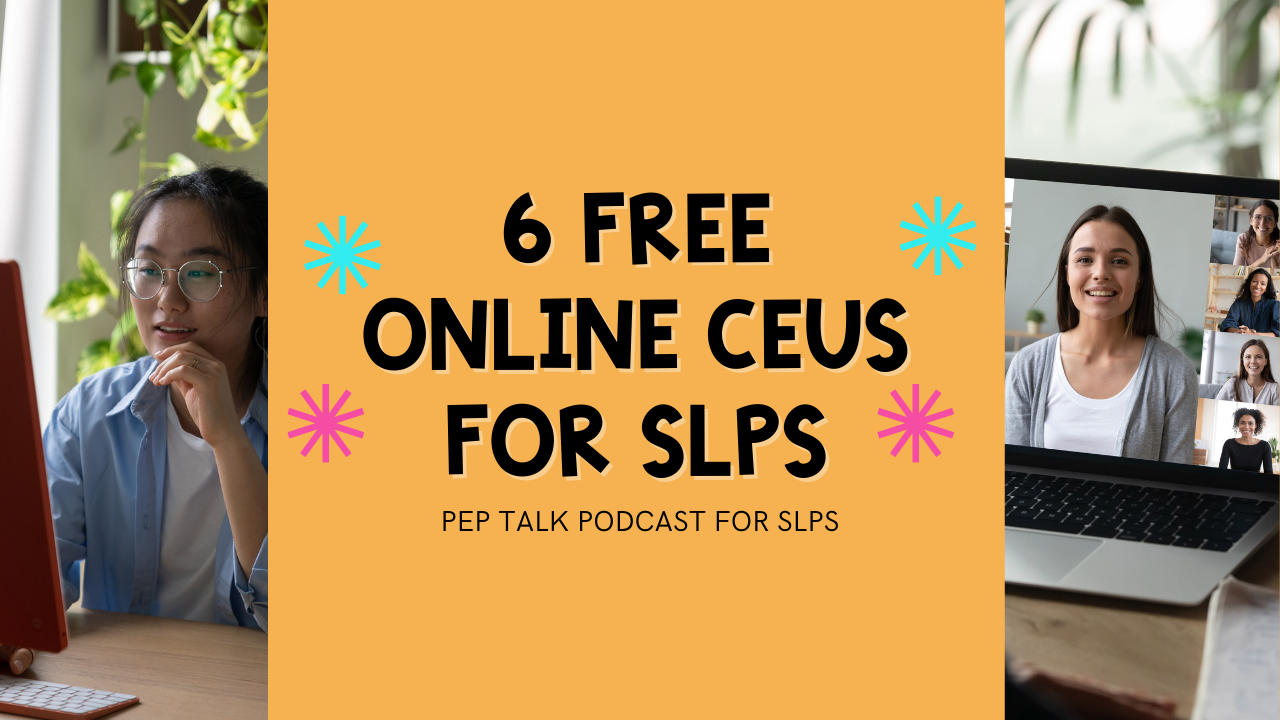 Continuing education is an essential part of any professional's career, and Speech-Language Pathologists (SLPs) are no exception. Continuing Education Units (CEUs) are an integral part of an SLP's professional development. However, attending in-person workshops or courses can be time-consuming and expensive. Fortunately, there are many FREE online CEU options available to SLPs.
Here are some of the best FREE online CEUs for SLPs:
1. ASHA CEU courses
This website offers a variety of free online CEUs for SLPs. The courses cover a broad range of topics, including autism, fluency disorders, and cognitive-communication disorders.
The Peptalk Podcast for SLPs hosted by Michelle Andrews M.S., CCC-SLP is the new modern way to earn PDHs or TSHA CEUs. Listening to podcast episodes could easily be your new favorite way to do continued education. The great thing is that you can do this on the go in the car, while on a walk or while simply hanging with your family. Earn Professional Development Hours (PDHs) or TSHA CEUs by listening to podcast episodes and taking a short quiz.
You will earn a certificate that you may submit to ASHA for your CCC maintenance hours. ASHA accepts PDHs for all 30 hours to maintain your CCCs. These courses are also approved TSHA (Texas) CEUs. Check your state's standards to make sure PDHs can be used for your state licensure requirements. Quizzes normally cost $8 but you can earn a
FREE CEU course quiz with this coupon code: FREEPEPTALK (only available for course #10 "SLP Recommendations to Parents for Early Language Development." CLICK HERE
to check out this course. You can listen on Apple,
Spotify
or Google Podcasts.
MedBridge offers a free trial period that includes access to a variety of CEU courses for SLPs. After the trial period, users can choose to continue with a paid subscription or opt for a limited free account.
Northern Speech Services offers a variety of free online CEUs for SLPs. The courses cover a range of topics, including language disorders, stuttering, and augmentative and alternative communication.
Speech Therapy PD offers a variety of free online CEUs for SLPs. The courses cover a range of topics, including swallowing disorders, motor speech disorders, and literacy.
Check Your State's Requirements for CEUs
It's essential to note that while these CEUs are free, they may not always meet the requirements of your state licensure or certification board. Before beginning any CEU course, be sure to check with your state board to ensure that the course meets the required standards. For example, some states require a certain amount of your hours be in person vs online.

In conclusion, continuing education is vital for SLPs to stay up-to-date with the latest research and best practices. Fortunately, there are many free online CEUs available that cover a range of topics. Whether you're looking to brush up on your skills or learn something new, these free online CEUs for SLPs are an excellent place to start.
Created with